When I heard this word, Dogeared, the thought that came to my mind was the turned down corners of pages in a book (to mark my spot). But when I checked it out, I was surprised it was a name of a jewelry line. So I had lots of fun browsing the site and have a wish list to give to the guys for future presents they can get me! LOL
Today is slowly coming to an end, but I still want to get out a new weekly meme. I hope you all play along every week with me! I seem to have several projects going at any given time, and I am curious to know if there are others out there like me! So I am hoping you join in on my new weekly meme of WIP (work in progress) Wednesday. Grab the fun logo below and play along!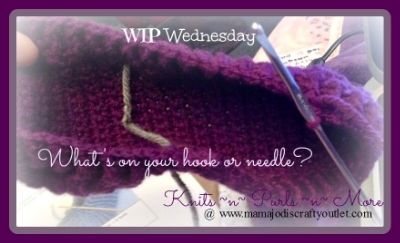 My work in progress right now, is the logo above. I am working on pair of crocodile stitch slippers. I am loving how this stitch looks. The slippers are a quick project to make, once you get the hang of the pattern! I have made several pairs so far. This time I am finally working on something for just me!
I also have have an afghan in progress for my oldest son, that I am hoping to get back to working on as soon as the slippers are complete. Then it will be back to working on other things to get a stockpile going so I have plenty for any upcoming craft shows I plan on attending!
So what's on your hook/needle?
Mister Linky's Magical Widgets — Auto-Linky widget will appear right here!
This preview will disappear when the widget is displayed on your site.
For best results, use HTML mode to edit this section of the post.
These are the yummiest pretzels, and so easy to make! I found these via Best Yummy Recipes. These will be made quite often now!
Homemade Soft Pretzels
Makes 8 pretzels
Ingredients:
Dough:
2 1/2 cups all-purpose flour
1 tsp granulated sugar
1/2 tsp salt
2 1/2 tsp dried yeast (1 package)
1 cup warm water
Topping:
1/2 cup warm water
1 tbs baking soda
2 tbs unsalted butter, melted
salt for sprinkling
Directions:
1. First, combine warm water, sugar and instant dried yeast in a small bowl. Cover and let sit for five minutes, until the mixture is frothy. Meanwhile, combine flour and salt in your electric mixer bowl. Once your yeast mixture is frothy, add it to the flour and mix until a soft dough forms. Then, using the dough hook attachment, knead for five minutes. Form the dough into a ball and place in a greased bowl, cover and let rise for 30 – 40 minutes.
2. Once the dough has risen, punch it down and divide it into eight equal pieces. Preheat your oven to 400 deg F and line your baking sheets with parchment paper (or just grease them). In a small bowl, combine warm water and baking soda. On a greased surface, make your pretzels. Dip each pretzel into the baking soda and water mixture, then place them onto your prepared baking sheets and cover them, let rise for another 10 minutes.
3. Bake the pretzels for about 10 minutes, until they are golden brown on top. Once they are done, brush them with melted butter and sprinkle them with salt.
That with all of the cold temps and being somewhat snowed in, I would bet getting lots of crochet/knitting and or baking done. But nope, all I want to do is sleep, or just lose myself in mindless TV. I so hate the winter blues! After being cooped up in the house for 4 days, I finally got out of the house for a few hours, for a lunch date with a few former coworkers. It was good catching up, and seeing the baby belly on one of them! Can't wait to meet the little guy!
This little outing got me back into somewhat of a groove, I did a little baking, worked on more crochet projects and did some online browsing for some ideas for future projects. In doing so, more and more ads were popping up for online pharmacy tcds. Still trying to figure out how these even pop up as they don't have anything to do with crocheting and or baking.
I did make some yummy pretzels yesterday.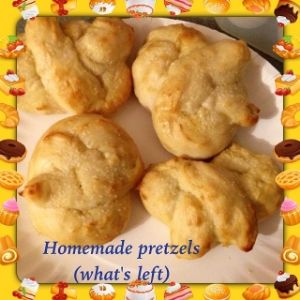 Next up is homemade white bread, just hoping that this loaf actually rises, as I am in the mood for some thick slices of yummy homemade bread, slightly toasted with layers of peanut butter and jelly on them. Mmmmm
Happy Thursday!!
Who knew that from posting one little picture, would lead to many orders of this fun little hat! I had first saved this pattern on my Ravelry account, and struggled with it for a long time; then just put it aside. I finally picked it back up, and worked through the difficulties I was having, and finally figured out the pattern! I so love how it turned out! One is completed, and several more orders are in the works!
I am going to make one for myself, and with luck I can pull off wearing a hat!