For this commercial break… LOL While browing my normal sites for crochet ideas up popped this ad for immigration lawyers in los angeles, which had me chuckle, as it really had nothing to do with crocheting or hobbies at all. I have noticed lately that whatever I google, the next day or so I will see more and more ads for items I have searched for. So I am wondering if either my hubby or oldest son use my laptop and for some reason or another they googled immigration lawyers?
I will never know, but its all good. Have you ever had weird things like this pop up when you are browsing the internet?
The start of my fun baking week!! Aside from making the sauce for spaghetti I whipped up some of banana muffins and tried a box mix for some carmel apple cookies. The muffins I know will be a hit as they a standard in the house. The cookies, I sampled, I like them, now just have to see what my hubby has to say.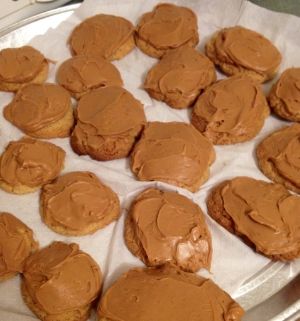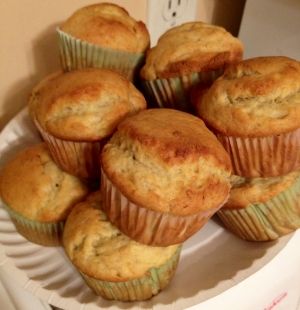 The rest of the week will be making the pies for Thursday and premaking any items that I can ahead of time.
This is my favorite week of the year. Not only is it a short work week for my hubby, but it has my favorite holiday in it! Thanksgiving! I love the baking, cooking and smells of this holiday! I have my list of foods for Thursday, and all of the ingredients are bought (outside of the pan, the one I was going to use isn't big enough).
I have to figure out all of the timing of the baking and cooking. I will be making the pies on Wednesday I think, but the rest will have to be timed just right. If only I had this oven!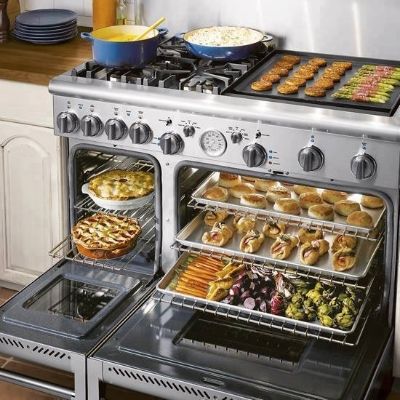 This has been added to my "dream home list of wants/needs"!! One day, and hopefully soon it will happen!!
On the menu:
Turkey, stuffing, green bean casserole, sweet potatoes, mashed potatoes/gravy, rolls, pumpkin and apple pie.
I am going to try out this recipe next week. Its been awhile since I have made homemade cookies (other than the break n bake kind), so the guys will be happy!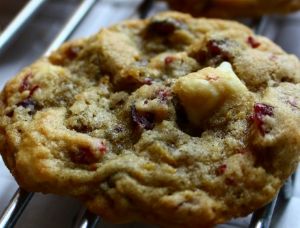 Ingredients
1 cup unsalted butter, softened
1 cup packed light brown sugar
1 cup granulated sugar
4 tablespoons freshly grated orange zest
2 tablespoon vanilla extract
2 large egg
3 cups all-purpose flour
1 tablespoon baking soda
1 ½ cups dried cranberries, chopped
1 ½ cups cup white chocolate chips
1 ½ cups macadamia nuts, chopped (optional)
Directions
Preheat the oven to 350 degrees F. Line 2 baking sheet with parchment paper.
With an electric mixer, cream the butter and both sugars together until smooth. Add orange zest, vanilla and eggs until well incorporated.
Sift together the flour and baking soda. Spoon the flour mixture gradually into the creamed sugar mixture.
Stir in the cranberries, white chocolate chips and macadamia nuts. Drop by heaping spoonful's, about 2 tablespoons, onto the prepared baking sheets, 2 inches apart. Bake one sheet at a time until lightly golden on top and the edges are set, 12 to 15 minutes.
Cool on the sheet about 5 minutes, and then transfer to a wire rack to cool completely.
Store in an airtight container for up to 2 weeks.
My step stool is almost complete! So thankful for my crafty hubby! As soon as he is finished with it, he will be onto the next project, as he has been looking at www.reidsupply.com/ for the supplies he needs. Hopefully this project doesn't turn into a long term, costly project. We still have a few things that need our attention, so the house is ready to list in a few months! I want to move!!