I am trimming the budget, and looking around to see who has the best insurance rates. I've checked several online sites like don allred insurance quotes, and most are the same as what I have with State Farm. I think we will stay with what we have, and maybe see what deals our agent can get us. So its back to the drawing board to see where else I can trim the budget. I am hoping that both the cell and cable companies can give me some sort of deal!
I found a recipe on pinterest that I am going to try out this weekend. If they turn out as good as the picture on pinterest I will post my own pics. But for now, here is the recipe:
Ingredients:
3/4 cup butter, melted (1 1/2 stick; I use unsalted butter but salted may be used)
3/ 4 cup light brown sugar, packed
1 tablespoon vanilla extract
1 cup all-purpose flour
1 cup whole-rolled old fashioned oats (not instant or quick cook)
1 teaspoon baking soda
pinch salt, optional and to taste
35 caramel squares, unwrapped (I used Werther's Originals Baking Caramels which are slightly bigger than cellophane-wrapped caramels; if using those, I recommend using a couple more)
1/2 cup heavy cream
1/2 teaspoon salt, optional and to taste, if you prefer salted caramel sauce
1 cup (6 ounces) semi-sweet chocolate chips or chunks (I used a combo)
See Better-For-You Dessert Ideas
Directions:
Preheat oven to 350F. Line an 8×8-inch pan with aluminum foil and spray with cooking spray. Lining your pan is highly recommended for ease of cleanup due to the stickiness of the caramel; set pan aside.
In a large microwave-safe mixing bowl, add the butter and heat on high power to melt, about 90 seconds.
Add the brown sugar, vanilla, and whisk until smooth.
Add the flour, oats, baking soda, optional pinch salt, and stir until combined. Mixture will be quite thick.
Add half of the mixture to the prepared pan (just eyeball it), and smooth it with spatula or the back of a spoon, to create an even, smooth, flat layer; set remainder aside.
Bake for 10 minutes. While it bakes, make the caramel sauce.
In a large microwave-safe mixing bowl, combine the caramels, cream, and heat on high power in 60-second bursts to melt caramels, stirring after each burst. It will likely take about 4 to 5 minutes total to melt; heat until mixture can be stirred smooth. Alternatively, combine caramels and cream in a medium saucepan, and heat over medium-low heat to melt, stirring nearly continuously, until mixture can be stirred smooth.
Optionally stir in 1/2 teaspoon salt, or to taste, for salted caramel sauce; set sauce aside.
After 10 minutes, remove pan from the oven and evenly sprinkle with the chocolate.
Slowly and evenly pour caramel sauce over the chocolate.
Evenly crumble reserved oatmeal-brown sugar mixture over the top.
Return pan to oven and bake for about 15 to 18 minutes (I baked 16 1/2), or until edges are lightly browned and center is bubbling slightly.
Allow bars to cool completely in the pan before slicing and serving, giving the molten caramel time to firm up. This can take up to 4 hours, or overnight, at room temperature. You can speed it up by placing pan in fridge with a sheet of foil over the top to prevent fridge smells. If you don't wait for bars to cool completely, they'll be a literal hot mess. They'll taste fine (don't burn yourself), but they won't slice neatly with clean cuts. Bars will keep airtight at room temperature for up to 1 week, or in the freezer for up to 4 months.
John found a ampeg 6×10 bas cabinet that he is going to take apart so he can install his homemade amp in it. I hope once he gets it in and hooked up to the speakers he has had, that he is pleased with it. If he is, maybe he can lay off the search for the perfect amp, and we can sell the others in the basement. Then I can really add to our vacation fund! LOL
Took a quick break from working on my corner to corner afghan to whip out this cute newsboy hat. I love how fast these go. Can't wait to see how it looks on the baby it is intended for. Pattern can be found here.
I am going to have to crank out a few more to have on hand for craft shows or what nots! I can change them up with different color flowers, crocheted or fake flowers.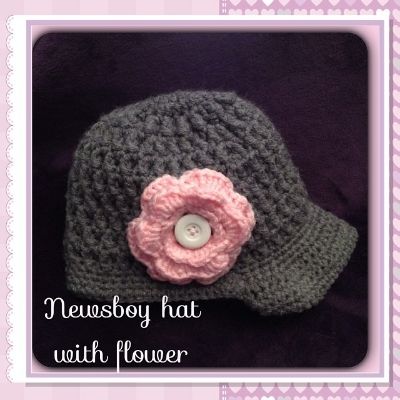 I want to take some sewing classes, so I can branch out in my hobbies! I would love to make my own clothes, but I can't sew a straight line to save my life! The only piece of clothing I made was a baseball shirt, but that was back in middle school (oh so many years ago).
I have a few patterns that are screaming for me to open up and tackle the unknown! One day soon I am going to open them up and actually make a beautiful piece of clothing! One day!