I joking asked my hubby if it would be ok to go on a road trip with Robyn out to California to visit her brother that is moving out there. I think it would be a fun trip and one that is much needed!! While out there I could look at Ocean isle real estate, even though I know we wouldn't move out there, but it would be fun to dream just a little bit!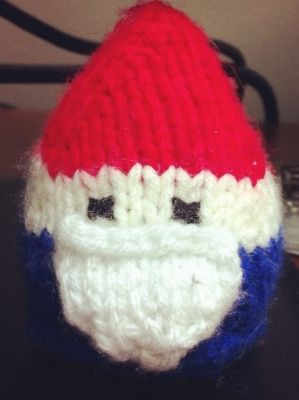 I am working on a bunch of Gnomes like this one. They are so quick and easy to make, so I am hoping to get alot done this weekend. There will be lots of red/blue ones, some orange/black and green/yellow (that have been requested) and whatever other color combo I want to make. They will be all traveling to Portland, Oregon for a fund raiser a friend out there.
Instead of musical chairs, its Musical Instruments in our house. John keeps going back and forth between making an electric guitar to the acoustic guitar. I told him to stick to the electric as he know how to do those, and has all of the equipment needed to make them, where as he would have to go out and buy all new things or borrow some from a friend, and that's not doable right now for us!
So he's designing the next body for the guitar, while putting the finishing touches on the one he is finishing up for our nephew.
I think that's a marvelous idea! I know Trent won't like it, but I am in the mood for fish!
4 (4 ounce) tilapia fillets
2 tablespoons Miami-style sazon seasoning (sazon completa)
1 serving olive oil cooking spray (such as PAM®)
1/2 cup grated Parmesan cheese
2 tablespoons butter-margarine blend (such as Smart Balance®), melted
1 1/2 tablespoons fat-free mayonnaise (such as Kraft®)
2 tablespoons lemon juice
2 teaspoons grated lemon zest
1/8 teaspoon dried basil
1/8 teaspoon ground black pepper
1/8 teaspoon onion powder
1/8 teaspoon celery salt
Directions
Preheat the oven's broiler and set the oven rack about 6 inches from the heat source. Line a broiler pan with aluminum foil. Spray the broiler pan's rack with olive oil cooking spray.
Sprinkle tilapia with sazon seasoning and arrange on the prepared broiler rack.
Mix the Parmesan cheese, butter-margarine blend, fat-free mayonnaise, lemon juice, lemon zest, basil, black pepper, onion powder, and celery salt together in a bowl and set aside.
Cook the fillets under the preheated broiler until fish is barely opaque, 2 to 3 minutes per side. Spread the Parmesan cheese blend over the fish fillets, return to oven, and continue cooking until the topping is golden brown and the fish flakes easily, 3 to 5 more minutes.