I have been craving sweets something fierce! Of course it has to be the week that I restart up my diet! But doesn't this look oh so yummy! I may have to make it on my "cheat" day!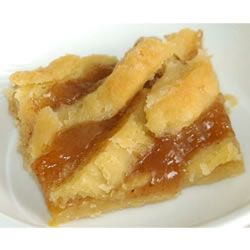 Directions
1. In a medium bowl, sift together the flour, 3 tablespoons sugar, and salt. Work in the shortening with a pastry blender until the mixture resembles coarse crumbs. In a small bowl, whisk together the egg and cold water. Sprinkle over flour mixture, and work with hands to form dough into a ball. Chill 30 minutes.
2. Preheat oven to 350 degrees F (175 degrees C). Roll out half of dough to 1/8 inch thickness. Place in a 9×13 inch baking dish, covering bottom and halfway up sides. Bake for 20 minutes, or until golden brown.
3. In a large saucepan, mix the peaches, lemon juice, and orange juice. Add 1/2 cup butter, and cook over medium-low heat until butter is melted. In a mixing bowl, stir together 2 cups sugar, nutmeg, cinnamon, and cornstarch; mix into peach mixture. Remove from heat, and pour into baked crust.
4. Roll remaining dough to a thickness of 1/4 inch. Cut into half-inch-wide strips. Weave strips into a lattice over peaches. Sprinkle with 1 tablespoon sugar, and drizzle with 1 tablespoon melted butter.
5. Bake in preheated oven for 35 to 40 minutes, or until top crust is golden brown.
I think that's a marvelous idea! I know Trent won't like it, but I am in the mood for fish!
4 (4 ounce) tilapia fillets
2 tablespoons Miami-style sazon seasoning (sazon completa)
1 serving olive oil cooking spray (such as PAM®)
1/2 cup grated Parmesan cheese
2 tablespoons butter-margarine blend (such as Smart Balance®), melted
1 1/2 tablespoons fat-free mayonnaise (such as Kraft®)
2 tablespoons lemon juice
2 teaspoons grated lemon zest
1/8 teaspoon dried basil
1/8 teaspoon ground black pepper
1/8 teaspoon onion powder
1/8 teaspoon celery salt
Directions
Preheat the oven's broiler and set the oven rack about 6 inches from the heat source. Line a broiler pan with aluminum foil. Spray the broiler pan's rack with olive oil cooking spray.
Sprinkle tilapia with sazon seasoning and arrange on the prepared broiler rack.
Mix the Parmesan cheese, butter-margarine blend, fat-free mayonnaise, lemon juice, lemon zest, basil, black pepper, onion powder, and celery salt together in a bowl and set aside.
Cook the fillets under the preheated broiler until fish is barely opaque, 2 to 3 minutes per side. Spread the Parmesan cheese blend over the fish fillets, return to oven, and continue cooking until the topping is golden brown and the fish flakes easily, 3 to 5 more minutes.
So many things have been going on that I haven't had the time to do any baking! I will have to make up for it real soon! I want to try some pumpkin bars
4 eggs
1 2/3 cups white sugar
1 cup vegetable oil
1 (15 ounce) can pumpkin puree
2 cups all-purpose flour
2 teaspoons baking powder
1 teaspoon baking soda
2 teaspoons ground cinnamon
1 teaspoon salt
Icing
1 (3 ounce) package cream cheese, softened
1/2 cup butter, softened
1 teaspoon vanilla extract
2 cups sifted confectioners' sugar
Directions
Preheat oven to 350 degrees F (175 degrees C).
In a medium bowl, mix the eggs, sugar, oil, and pumpkin with an electric mixer until light and fluffy. Sift together the flour, baking powder, baking soda, cinnamon and salt. Stir into the pumpkin mixture until thoroughly combined.
Spread the batter evenly into an ungreased 10×15 inch jellyroll pan. Bake for 25 to 30 minutes in preheated oven. Cool before frosting.
To make the frosting, cream together the cream cheese and butter. Stir in vanilla. Add confectioners' sugar a little at a time, beating until mixture is smooth. Spread evenly on top of the cooled bars. Cut into squares.
I have slowly been slipping in chicken recipes, and the hubby is actually eating them! Shock! Shock! I think this one will be on the menu soon:
Bruschetta Chicken Bake
1 1/2 pounds skinless, boneless chicken breast halves – cubed
1 teaspoon salt
1 (15 ounce) can diced tomatoes with juice
1/2 cup water
1 tablespoon minced garlic
1 (6 ounce) box chicken-flavored dry bread stuffing mix
2 cups shredded mozzarella cheese
1 tablespoon Italian seasoning
Directions
Preheat oven to 400 degrees F (200 degrees C). Spray a 9×13-inch glass baking dish with cooking spray.
Toss the cubed chicken with the salt in a large bowl. Place the chicken in a layer into the bottom of the baking dish. Stir together tomatoes, water, garlic, and stuffing mix in a large bowl; set aside to soften. Sprinkle the cheese on top of the chicken, then sprinkle with the Italian seasoning. Spread the softened stuffing mixture on top.
Bake uncovered until the chicken cubes have turned white and are no longer pink in the center, about 30 minutes.
Happy 2013! Its a new year and a new day! I have so many fun things I want to try this year with all of my hobbies! I have lots of things on pinned on Pinterest that I want to work on. Now to only find free patterns to get started on all of them!
I am working on a cute little pink tutu that will be listed on my etsy site. I have sold my first item on there, so its a start! I am still getting other orders on the side, so that's always a bonus! I just finished up 4 Grinch hats, and so hoping that she likes them!
I want to get back in the kitchen as well, as I have that itch to bake yet again. It never fails, when I go on a diet, I get the urge to bake, bake, bake!