Pretzel bites
I found this recipe on pinterest, and had to pin it for a "must try" for Christmas Eve. I love how this site allows you to pin things, then later you can go back to click on said pin that will lead you to the website for the how to's! This thanks goes out to Pennies on a Platter for this yummy recipe!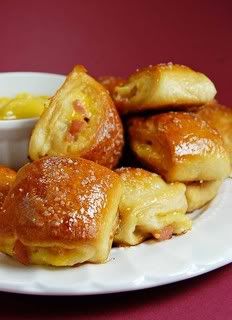 Ham & Cheese Pretzel Bites
Yield: 48 bites
1 package (1/4 oz) active dry yeast (or instant yeast)
2 Tablespoons plus 1 teaspoon packed brown sugar, divided
1/4 cup warm water (110-115?F)
1 cup warm milk (110-115?F)
2 1/2 to 3 cups flour
1/2 cup finely chopped ham (about 3 ounces)
1/2 cup shredded cheese of choice (I used cheddar)
6 cups water
4 teaspoons baking soda
4 Tablespoons unsalted butter, melted
1-2 Tablespoons coarse salt
Combine the yeast, 1 tsp brown sugar, and warm water in a large bowl. Set aside until foamy, 5-8 minutes. (If using the instant yeast, you can skip this step and just add it to the flour.) In another bowl, stir together the remaining 2 Tbsp brown sugar and warm milk until dissolved.
Add 2 1/2 cups flour and milk mixture to the yeast. Stir with a wooden spoon until a soft dough forms. Add the remaining flour as needed. Turn the dough out onto a lightly floured surface and gently knead a few times, forming a smooth ball.
Brush the inside of a large clean bowl with olive oil. Transfer the dough to the bowl and cover tightly with plastic wrap. Allow to rise in a warm, draft free area for about 2 hours, until dough has doubled in size and bubbles appear on the surface.
Turn out the dough onto a lightly floured surface. Divide into 4 equal pieces. Lightly dust your hands and rolling pin with flour. Roll one of the four sections into a 12×4-inch rectangle. With the long side facing you, gently press 1/4 of the ham and cheese into the bottom third of the dough, and roll as tightly as possible, starting with the end that has the filling. Cut into 12 1-inch pieces and transfer to a sheet pan lined with parchment paper. Repeat with remaining 3 portions of the dough.
Let rest, uncovered, at room temperature for 30 minutes. (Again, if using instant yeast you may choose to skip this step as it only requires one rise.) Meanwhile, preheat oven to 400?F.
Bring 6 cups of water to a boil. Add the baking soda and reduce heat to a gentle simmer. Boil pretzels in batches, cooking about 20 seconds each, turning once. They should be slightly puffed. Use a slotted spoon to transfer them back to the baking sheets.
Bake until puffed and golden-brown, about 15 minutes.
Brush warm pretzel bites with melted butter and sprinkle with salt. Serve warm or at room temperature.