I love looking at sites to get ideas for possible gifts I can make for much less; always the "cheapskate"!! LOL I know that I have made jewelry for the inlaws for Christmas gifts, but I am thinking about making jewelry again this year and have been checking out joyjewelers.com for some ideas. Hopefully I have enough jewelry making stuff on hand so I don't have to go out and buy too much. Money is tight this year, so trying to come up with some lesser expensive gifts for everyone!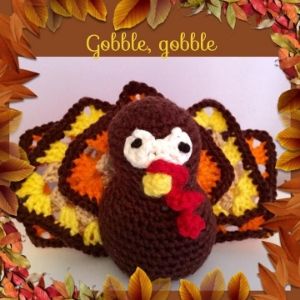 Fall! I love this time of year! The smells, the colors, breaking out the sweathers/sweatshirts. Just wish we had a fireplace so I could build a fire and cuddle with my sweetie!
In a few short weeks I get to make my most favorite meal of the year! Turkey with all the trimmings! I am drooling already! Turkey, stuffing, mashed potatoes/gravy, green bean casserole, sweet potatoes, rolls, pumpkin pie, oh my! The next best thing to this meal is the next day, all the left overs! Yum!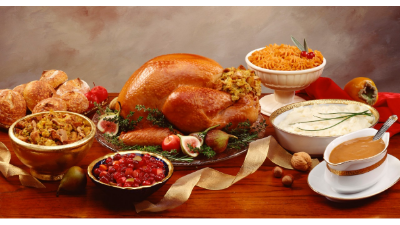 And now for the giveaway! I came across this cute lil guy via,
Petals to Picots
blog and thought he would make a great Thanksgiving giveaway!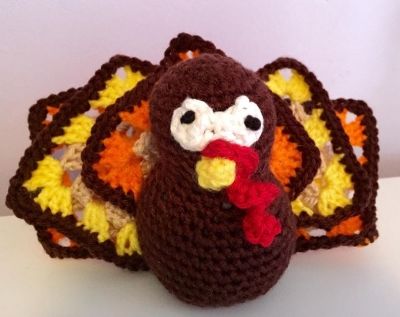 So if you want to have him grace your holiday table this Thanksgiving, here's what you have to do.
One entry commenting on this post, telling me what your favorite dish is for Thanksgiving.
One additional entry for liking my FB page, Knits ~n~ Purls ~n~ More
Three additional entries for sharing this post on your blog or FB, and them coming back and commenting where you shared it at.
This will give you 5 entries in total if you do all of the above. The giveaway ends Midnight Thursday, Nov. 13th, 2014. I will use the random number generator to pick the winner on Friday, Nov. 14th, and get it in the mail to the winner so you will get it before Thanksgiving!!
One my list for Christmas this year: yamaha digital grand piano! I haven't been able to con my father in law out of his, so now I want one of my own! I have always wanted to learn how to play the piano. I have a little bit of knowledge in playing one, as I used to play around with my grandmas back in the day, so with the help of some lessons I should be good to go!!
Now is only Santa would be a sweetie and bring my my wish list!!!
This is on my list to make next! Its so pretty, and looks like it will keep my neck warm for this winter!! Purple and gray are going to be my color choices!
Stormy Weather Cowl. I really love all of her patterns, and will be happy with this one as well!!
Photo credit – Moogly blog
Have you seen the commercial for Sonic that the two guys are talking, and the one says "jenna said what" in response to "Je ne sais quoi". It gets me every time, and then that phrase is in my head for the next few hours! The next saying that will be in my head is clubman pinaud… only because pinaud is fun to say. I have no clue as to what this means, but saying it is fun.
What other sayings once you hear them, get stuck in your head for the rest of the day?