I finally got the baking bug! First cookies of the holiday season: Peanut Blossoms ~ I love these cookies! I was given the opportunity to whip up a batch after the complementary package of kisses from my influensterbox. I had to keep the hubby out of them until today. He will be pleasantly surprised when he gets home tonight from work!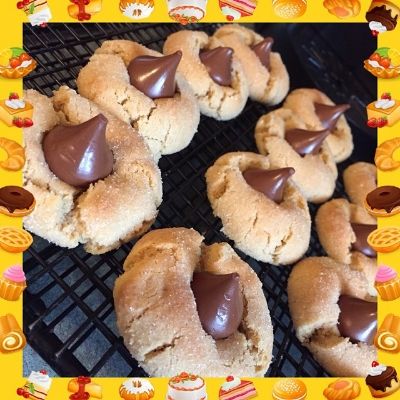 And the leftover kisses have been added to the candy dish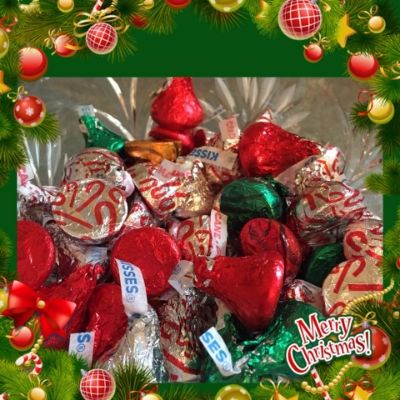 I never really pay attention to the small print on and deals I find. But now after going to purchase an item for Christmas, the said item was all gone. When I asked to get a rain check, it was denied due to the small print stating "Limited availability".
This really irritates me as I was going to use the Santa bucks this store had, as well as some of my reward coupons I had saved up. It was going to make this purchase a very "great buy". Now back to the drawing board to see if I can find it else where for just as good a deal if not better!
So make sure you read all of the small (fine) print on any deals you see, as you might get the "sorry, can't issue a rain check" senario!
I think I am going to make this for breakfast on Christmas morning.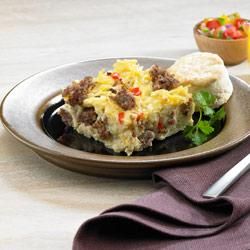 Ingredients
2 (12 ounce) packages Johnsonville® Original Recipe Ground Breakfast Sausage
9 eggs
3 cups milk
1 1/2 teaspoons ground mustard
1 teaspoon salt
1/2 teaspoon pepper
1 (30 ounce) package frozen country-style hash browns, thawed
2 cups shredded 4-cheese Mexican blend cheese
1/2 cup diced red bell pepper
1/3 cup thinly sliced green onions
Salsa or picante sauce (optional)
Directions
Arrange sausages on an ungreased 15-in. x 10-in. x 1-in. baking pan. Bake at 375 degrees F for 15-20 minutes, turning links once or until sausage is cooked through and lightly browned; drained. Allow to cool slightly. Slice sausage into 1/4 -inch coins.
In a large bowl, whisk eggs, milk and seasonings. Add sausage, hash browns, cheese, bell pepper and onions. Pour into a greased 13-in. x 9-in. x 2-in. baking dish. Cover and refrigerate overnight.
Remove from refrigerator 30 minutes before baking. Bake, uncovered at 350 degrees F for 65 to 70 minutes or until a knife inserted in the center comes out clean. Let stand 10 minutes before serving. Serve with salsa or picante sauce.
I love looking at sites to get ideas for possible gifts I can make for much less; always the "cheapskate"!! LOL I know that I have made jewelry for the inlaws for Christmas gifts, but I am thinking about making jewelry again this year and have been checking out joyjewelers.com for some ideas. Hopefully I have enough jewelry making stuff on hand so I don't have to go out and buy too much. Money is tight this year, so trying to come up with some lesser expensive gifts for everyone!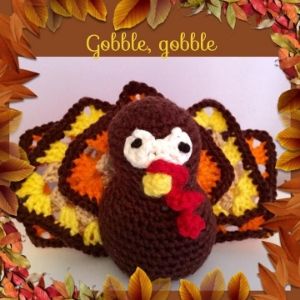 Fall! I love this time of year! The smells, the colors, breaking out the sweathers/sweatshirts. Just wish we had a fireplace so I could build a fire and cuddle with my sweetie!
In a few short weeks I get to make my most favorite meal of the year! Turkey with all the trimmings! I am drooling already! Turkey, stuffing, mashed potatoes/gravy, green bean casserole, sweet potatoes, rolls, pumpkin pie, oh my! The next best thing to this meal is the next day, all the left overs! Yum!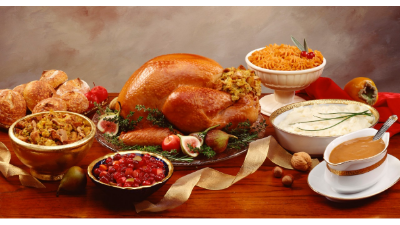 And now for the giveaway! I came across this cute lil guy via,
Petals to Picots
blog and thought he would make a great Thanksgiving giveaway!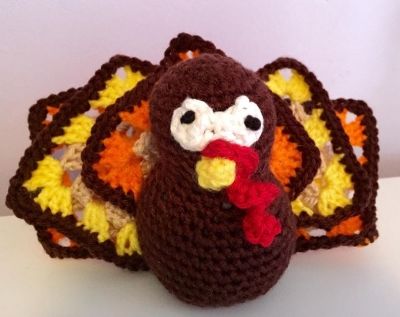 So if you want to have him grace your holiday table this Thanksgiving, here's what you have to do.
One entry commenting on this post, telling me what your favorite dish is for Thanksgiving.
One additional entry for liking my FB page, Knits ~n~ Purls ~n~ More
Three additional entries for sharing this post on your blog or FB, and them coming back and commenting where you shared it at.
This will give you 5 entries in total if you do all of the above. The giveaway ends Midnight Thursday, Nov. 13th, 2014. I will use the random number generator to pick the winner on Friday, Nov. 14th, and get it in the mail to the winner so you will get it before Thanksgiving!!